Our rooms have the all facilities and comforts you would expect to ensure an enjoyable stay.
Facilities of KARIN Design Cottage
Clean and cozy cottage completes with appliances and toiletries.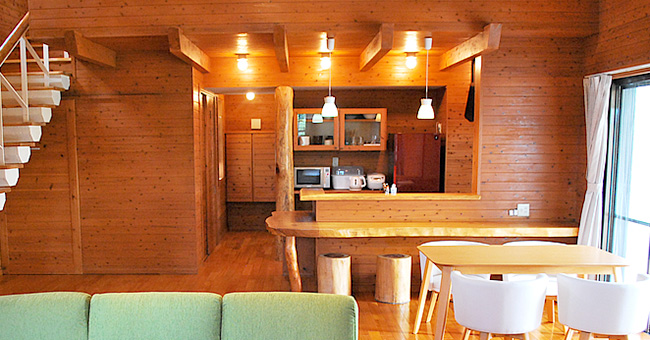 | | |
| --- | --- |
| Living room | Dining table with 4 chairs, 2 sofas, Coffee table, TV, DVD player, Air-conditioner, Baby goods |
| Kitchen | Refrigerator, Microwave oven, Rice cooker(5 cups), Toaster, Coffee maker, Electric kettle, Utensils and cookware |
| Bed room | 2 three-quarter beds, 2 futons(Bedding), Air-conditioner, Closet |
| Attic | 4 mattress bedding, Air-conditioner |
| Terrace&Garden | BBQ table |
| Others | Washing machine, Baby bath |
| Amenities | Shampoo, Conditioner, Body soap, Tooth blush, Body sponge, Razor, Cotton, Swabs, Hair corm, Make-up Remover, Room slippers, Bath salt, Bath towel, Face towel. Amenities>>> |
| SUPERMARKET | SUPERMARKET ACCESS MAP |
Information
KARIN Design Cottage
Check in time
Start at 2PM end at 6PM
Guest arriving after regular check-in hours must contact us in advance to arrange late check-in.
Check out time
~10AM
Please clean room easily before you leave, and make sure leave nothing behind
Address
1765-35, Nakama, Onna-Village, Kunigami-County, Okinawa, Japan.
Building
Two story building. First floor : Bed room, Living room, Kitchen, bathroom. Second floor : Attic
Facilities
TV,  Air-conditions(3 units), Washing machine, Refrigerator, etc. Free WiFi is available in all areas.
Layout plan